BREAD AS BREAD WAS MEANT TO BE
Black Rooster Food brings you nutritious and flavorful old-world sourdough rye breads baked by hand in Brooklyn, NY using ancient Latvian recipes. Unlike commercially-produced rye breads, Black Rooster ryes contain no wheat flour and they stay fresh and tasty for weeks. You can order it here and find us in a growing number of shops and restaurants.
"This is powerful stuff that reminds you of why bread is called 'the staff of life.' I am pretty sure you could live on it alone."
- Ruth Reichl, former editor-in-chief of Gourmet Magazine and NYT restaurant critic.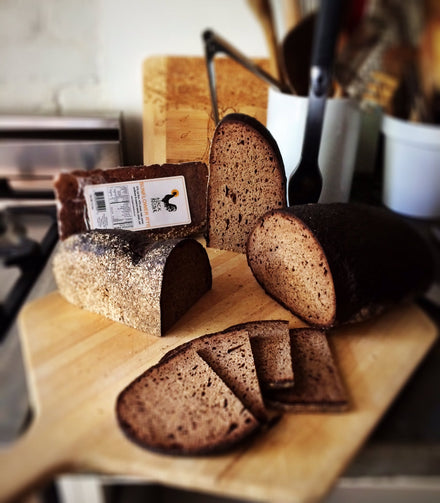 THE STORY
One hundred percent sourdough rye bread is a staple in and central to Latvian culture, identity, and culinary practice. For over a thousand years Latvians have been baking this bread—using rye flour, rye sourdough starter, a hint of caraway, and little else—in 900°f wood-burning ovens.
On long voyages, Baltic sailors fill the holds of their ships with this bread because it naturally stays good for months. Like rice in many Asian countries, rye bread ( known as rupjmaize in Latvian) is considered holy. It is never wasted. To leave it bottom side up on the counter is considered disrespectful...but if you forget, that's okay, because our bread won't stale quickly. And if it does, you are blessed with the foundation for the classic Baltic beer snack: fried rye bread croutons tossed in garlic butter. (It also makes excellent bread pudding.)
In Scandinavia, especailly Denmark and Sweden, rye bread forms the foundation of their excellent open-faced sandwiches. Unlike many of its Scandinavian, German, and Russian cousins, our Latvian rye bread is absolutely wheat-free and is considered the ne plus ultra of rye breads.
BALTIC RYE
Ingredients: Rye flour, rye sourdough, rye malt, caraway seeds, salt, a pinch of yeast, and a touch of sugar (to promote a controlled secondary proof). Each 1/4-inch slice (50 grams) of Black Rooster Baltic Rye provides:
3 grams of protein
4g of fiber (16% RDA)
27g of carbohydrate (9% RDA)
170mg of sodium (7% RDA)
140 calorie
Nutritional studies in Scandinavia revealed that breads made with 100% rye contain more fiber, vitamin E, riboflavin, folacin, and disease fighting antioxidants than wheat based breads. Furthermore, rye bread is much lower on the glycemic index than other conventional grains. Rye bread is also recognized as having anticarcinogenic qualities that are particularly well-suited to reducing the risk of prostrate, breast, and colon cancers.
All of our bread is certified Circle-K kosher. Our Baltic Rye and Baltic Blonde are vegan; the Baltic Fruits and Nuts contains honey and is otherwise vegan.
For decades bread lovers hungering for 100% healthful sourdough rye have had to freight it from Europe at high cost. Now, thanks to
 

Black Rooster Food, you can buy a loaf handmade in America.
CONTACT & LOCATIONS
Have questions about Black Rooster Food and our rye bread? Want to recommend your favorite local retailer to us? Send us an email:
johnmelngailis@blackroosterfood.com
Use the map below to find a reseller near you, or look below the map for our full list!
New York

DC Area

Massachusetts

Pennsylvania

Michigan

Westside Market

• 2589 Broadway
New York, NY

• 2840 Broadway
New York, NY

Rodman's Gourmet

• 5100 Wisconsin Avenue
Washington, DC

• 5148 Nicholson Lane
Kensington, MD

Formaggio Kitchen

• 244 Huron Avenue
Cambridge, MA

• 268 Shawmut Avenue
Boston, MA

Weaver's Way Co-op

• 8424 Germantown Ave

Philadelphia, PA

• 559 Carpenter Ln

Philadelphia, PA

• 217 E. Butler Ave

Ambler, PA

Madeleine's French Patisserie & Market

32644 Franklin Rd

Franklin, MI

Sable's Smoked Fish

1330 3rd Ave

New York, NY

Norman's Farm Market

• Jones Mill Rd at East West Highway

Chevy Chase, MD

• 5511 Massachussetts Ave

Bethesda, MD 20816

Cardullo's Gourmet Shoppe

• 99 Seaport Boulevard
Boston, MA

• 6 Brattle Street
Cambridge, MA

Zabar's

2245 Broadway at 80th Street
New York, NY

Kielbasa Factory

1073 Rockville Pike 

Rockville, MD

Baltic Deli & Cafe

632 Dorchester Avenue
South Boston, MA

Maine

Florida

Russ & Daughters

179 East Houston Street

New York, NY

Pescadeli

4960 Bethesda Avenue
Bethesda, MD

Concord Cheese Shop

29 Walden St.

Concord, MA

Browne Trading Market

262 Commercial St
Portland, ME

Nature's Food Patch 

1225 Cleveland St

Clearwater, FL

Horseradish Market

839 Broadway
Brooklyn, NY

Broad Branch Market

5608 Broad Branch Road NW
Washington, DC

Wasik's - the Cheese Shop

61 Central Street
Wellesley, MA

Park Slope Food Coop

782 Union St

Brooklyn, NY

Wagshal's Market

4845 Massachussetts Avenue NW
Washington, DC

Berkshire Food Co-op

34 Bridge Street
Great Barrington, MA

Schaller & Weber

1654 2nd Avenue
New York, NY

Arrowine & Cheese

4508 Cherry Hill Rd
Arlington, VA

Calvert Woodley

44339 Connecticut Ave NW
Washington, DC



Musings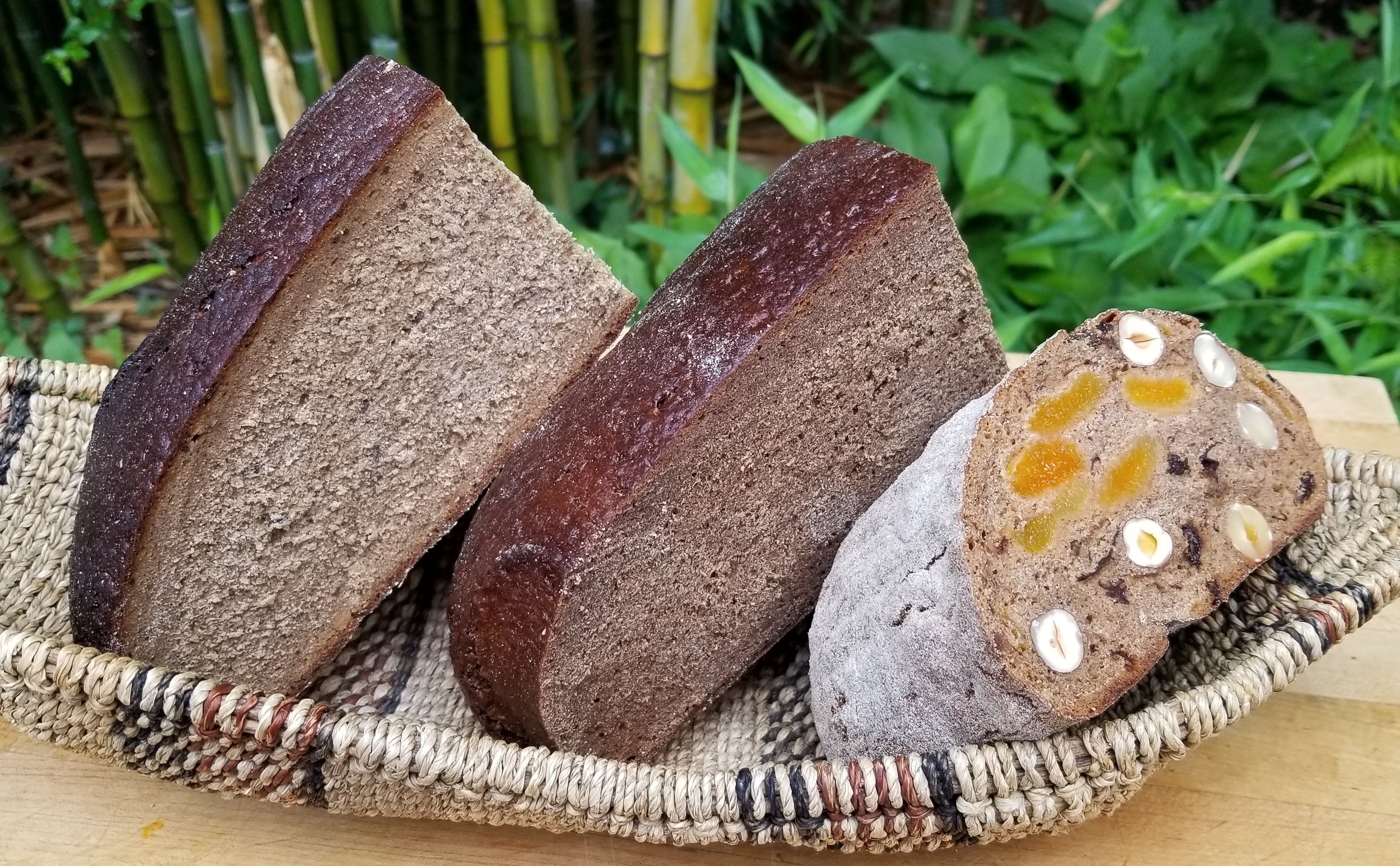 (This essay was submitted as a letter to the Editor of the New York Times Sunday Magazine in September 2020.) Having known lack of food, I was moved by the Sept....
My father was a student in Moscow during the first world war. The Latvian University was moved there (from Riga) because of the active war raging on our soil. (As an only...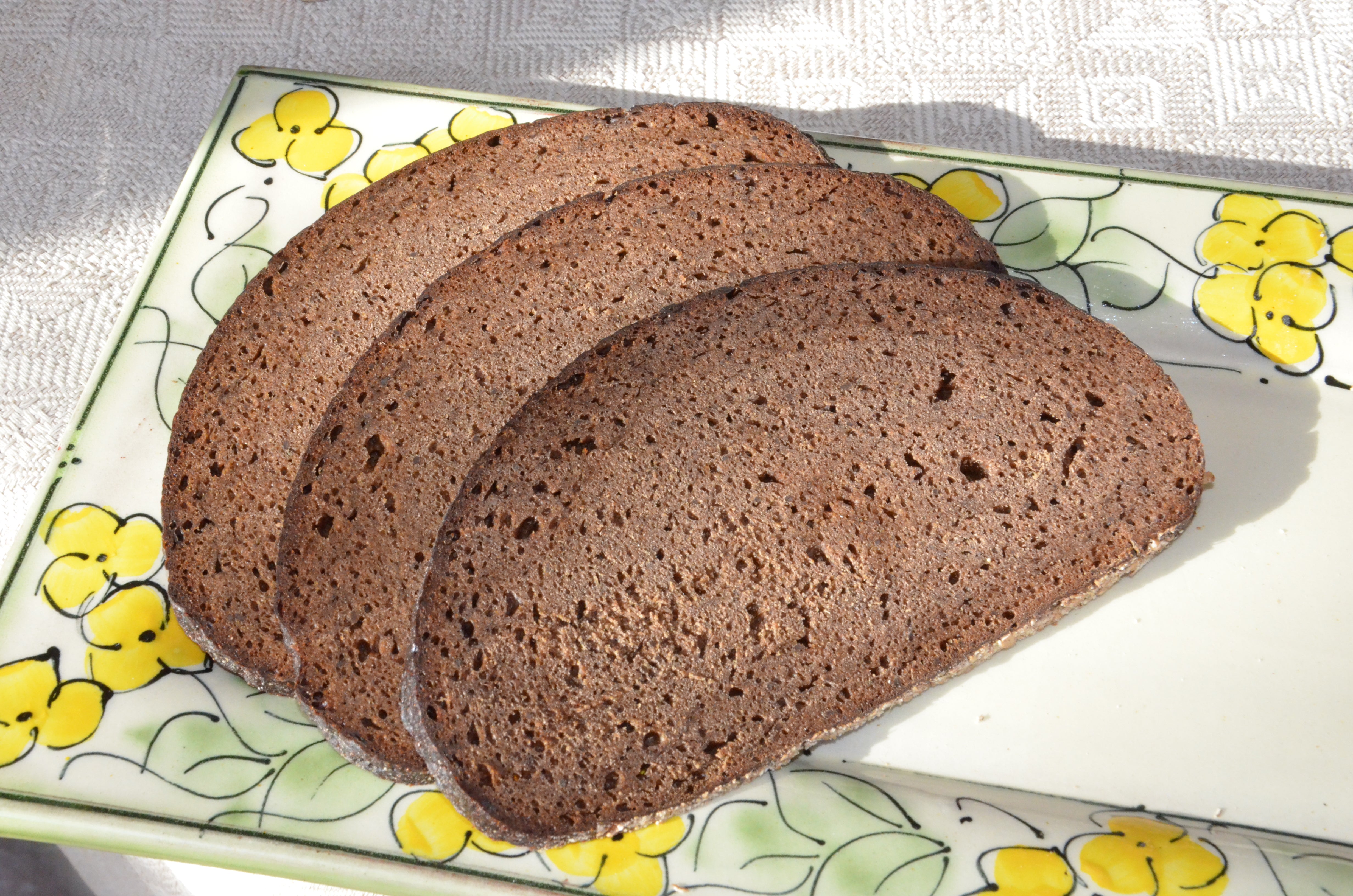 Because I believe, and I am not alone, that the critical issue facing us today is the health of our population.